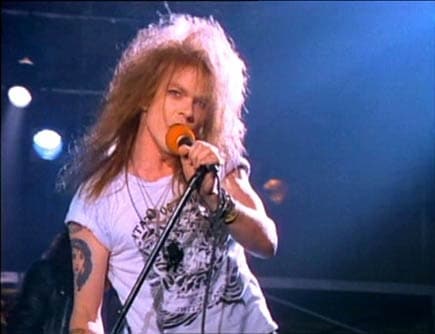 "Welcome to the jungle
We've got fun 'n' games
We got everything you want
Honey, we know the names
We are the people that can find
Whatever you may need
If you got the money, honey,
We got your disease
In the jungle
Welcome to the jungle
Watch it bring you to your
Knees, knees
I wanna watch you bleed"
I'm not sure how anyone of a certain age could possibly not love at least one Guns N' Roses song. I mean, just one. I remember the first time I saw Axl Rose slither his way across the stage in the video for "Welcome to the Jungle" and I was just gone.
The song was absolutely everything that a good 80's rock anthem needed to be and the band? Well, GNR always looked they had all just rolled out of a dumpster still drunk from the night before. And I kind of liked that. The whole Appetite for Destruction album literally changed my life and to this day I still affiliate certain songs with different places and people.I love the grittiness of "Welcome to the Jungle" and the video takes me back to a point in time when I was starting to embrace my love of hairbands.
Early GNR takes me back to my very first job . It was at a fast food place and after we closed at night someone would inevitably throw Axl & the boys into the boombox and crank it WAY up. Even though I was technically on the clock it was one of the best parts of my day. Music was such a hot bottom topic in my house with my parents constantly in a tug o war over lyrics, album covers and whatever else. It was great to spend time anywhere that not only allowed but encouraged me to crank up my radio.
Some songs just sound better loud and "Welcome to the Jungle" will always be one of them.